Our story
GSH Waste Recycling Ltd (formerly Grundy Skip Hire Ltd) draws on over 40 years of skills and experience, enabling us to be regarded as one of the major players in the waste & recycling solutions industry.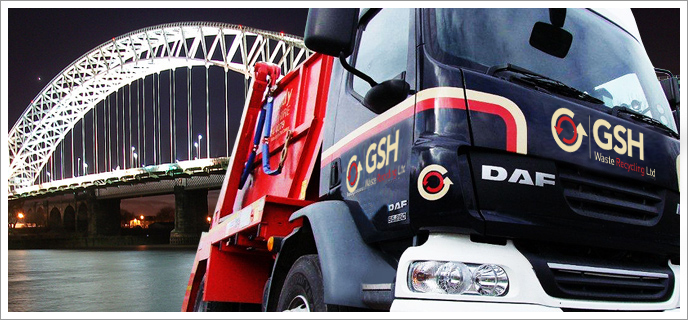 In the beginning...
The humble beginnings of the company were established over 40 years ago when Kevin Grundy set up Grundy & Co Excavations with one wagon. After working many long hours for on local construction projects the one wagon quickly became five wagons and a new home was found in St Helens, Merseyside in 1969.
Continued business growth
The business continued to grow and by 1978 the number of wagons had grown to 13. In 1979 the company uprooted and moved to a new site in Widnes. This relocation enabled the company to expand and move into the newly emerging 'recycled aggregates' market.
With the introduction of the waste pre-treatment legislation the company directors decided to diversify into skip hire and construction recycling, this allowed us to offer our clients a complete site environmental waste management solution.
Expansion into waste management & recycling
P&N Skip Hire Ltd was purchased in 2007 and an immediate investment of £600,000 was made in the latest plant and recycling / segregation machinery. Grundy Skip Hire Limited - now known as GSH Waste Recycling Ltd was established from this company in 2007.
This investment continued and in 2008/2009 CRS Skip Hire Ltd and Williams Brothers Recycling Ltd were acquired as they complemented the already well established customer base that GSH Waste Recycling (formerly Grundy Skip Hire Ltd) had developed.
The future
In the ever evolving world of environmental legislation the company has continued to make investments in new technology, machinery and staff skills. Our constant evolution and investment has enabled GSH Waste Recycling Ltd to continually grow and stay one step ahead of it's competitors in this fast changing industry.
We are committed by a desire to provide the best possible waste management service to our clients with the minimum impact on the environment. Through embracing new technology and anticipating future developments of how we treat waste we hope to make our aim of a zero landfill figure become reality in the near future.