Skip Hire & Skip Services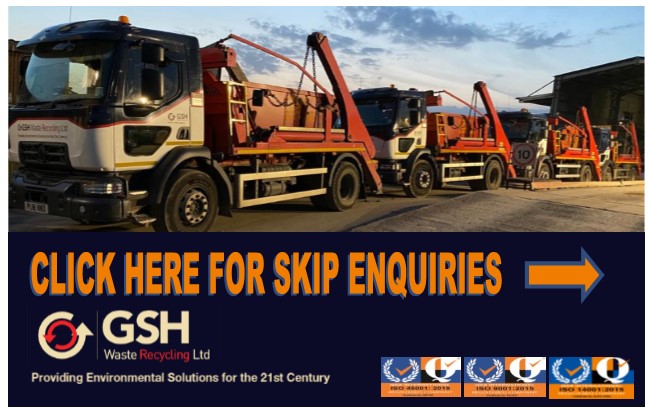 GSH Waste Recycling Ltd (formerly Grundy Skip Hire Ltd) offers a comprehensive range of skip hire services to meet your every requirement. With over 40 years of experience in the waste management sector you can be confident that we will provide you with a reliable and cost effective skip hire solution.
We have a large modern fleet of efficient vehicles and we can provide different sizes of skips and containers to match your exact needs.
Our range of vehicles include Skip Loaders and Roll on Roll off vehicles. Skip Loaders are trucks designed to carry regular sized skips and Roll on Roll off vehicles are designed to carry larger containers for removing and transporting significant volumes of heavier waste.
Customer service
We pride ourselves on providing the best possible customer service. Our highly trained dedicated customer services team are at hand to provide advice and discuss your specific requirements. Our polite and courteous team will make sure you get the best skip solution for your needs and that the skip is delivered on time and with the minimum disruption.
Flexible and reliable
Skips can be provided as required or on a fixed contract basis. When an order is placed the skip will be delivered to you at a designated time by one of our highly experienced and qualified drivers. Our drivers will endeavour to make sure the skips are delivered on time and are positioned in the most convenient place possible.
Investment in the future
Once filled, the skip is either replaced with an empty skip or removed to be emptied at our dedicated Material Recycling Facility (MRF). The contents are processed through our state of the art machinery and recyclable materials are separated for re-use.
Investment in the latest waste design and technology allows us to take care of your requirements to pre-treat waste under the Landfill Directive 2007 in the most efficient way whilst enabling us to help you to benefit from our Zero Waste to Landfill commitment; this efficiency reduces costs and minimises your carbon footprint.
Talk to us about your requirements
If you would like to talk to us about your specific requirements and discuss how we can help you please call us on 0151 424 4079, contact us here or view our sister company GSH Skips.