Waste Recycling
The Department for Food, Environment and Rural Affairs (Defra) estimates that businesses generate nearly a quarter of England's waste. In 2009 alone, businesses generated nearly 48 million tonnes of waste, of which a little more than half was recycled.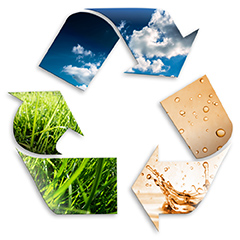 Our aim is to recover and divert as much waste from landfill as possible and give valuable resources a second life through responsible and sustainable recycling solutions. GSH Waste Recycling Ltd are continually investing in the latest technology to deliver the highest recycling and recovery rates possible. We identify the waste received, separate it and re-process so it can be efficiently reused in new manufacturing processes.
Our goal is to recover and recycle waste as efficiently as possible and protect the environment for future generations.
Why should we recycle?
Environmental Regulations
Like other developed countries, the UK too has been tightening environmental regulations in order to promote sustainability. The aim is to encourage innovation around using methods and materials that are less damaging to the environment.
Corporate Responsibility
The term "corporate responsibility" is being increasingly used by companies and the media to describe actions that help keep businesses ethically, socially and environmentally responsible. Studies show that companies that take their corporate responsibility seriously have delivered superior shareholder returns even during the difficult economic environment of the past 4 years.