Waste Types
GSH Waste Recycling's Waste Transfer Station is an environment agency licensed facility and as such is only licensed to accept certain waste types. Most waste types produced by residential, commercial and industrial customers can be accepted including:
Wood
Metals
Bricks, Concrete, Tiles & Ceramics
Soils & Sand
Mixed construction waste
Garden Waste
Mixed domestic type waste
Paper & Cardboard
Glass
Packaging, Textiles
Plastic
Plasterboard and Gypsum waste - Must be disposed of in it own allocated skip and not mixed in with other waste to avoid contamination
These acceptable waste types can either be segregated or mixed in the same skip for GSH to pre-treat, separate and recycle at our specialised facility.
There are however a number of materials that cannot be placed in our skips due to legislation or their hazardous nature. If these items are identified prior to collection they will be removed or if identified after collection then these will be returned after being quarantined and documented for the environment agency and a charge maybe levied for the processing and return of these items.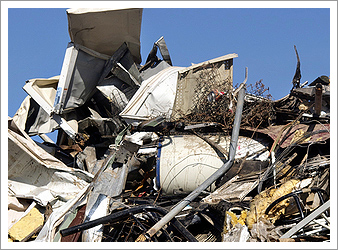 These include:
Asbestos
Fridges, Freezers, Air-Conditioning units
Tyres
Electrical Appliances (WEEE)
Batteries
Medical Waste
Fluorescent Light tubes
Paints (including residues inside paint cans) and solvents
Aerosols and gas canisters
Liquids
Oil, fuel and other automotive fluids
Hazardous/ Toxic Waste
We still may be able to dispose of these items for you, for further information contact us for advice.