Items Not Allowed In Skips
Here some common items which cannot be disposed of in a skips:
At GSH Waste Recycling we are licensed to dispose and recycle the majority of waste and with increasing regulations, we continue to increase the percentage they can recycle. There are some items which cannot be recycled and cannot be disposed of including the following: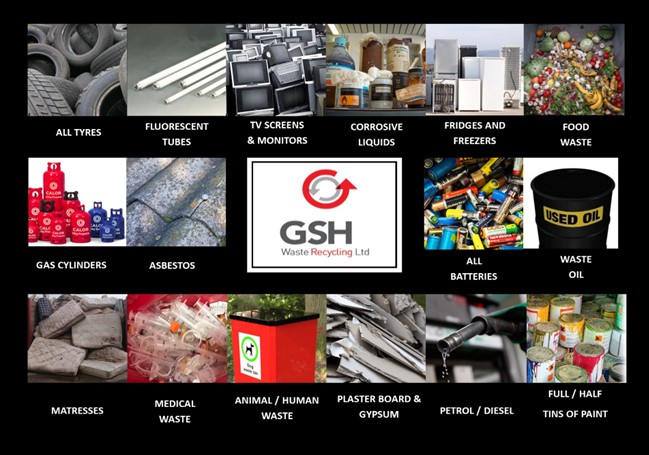 Plasterboard & Gypsum
There are government initiatives that are aiming to recycle gypsum and plasterboard waste. So these materials should be put in a separate skip. It is a legal requirement for plasterboard to be separated from other waste types and suitably treated.
This is because, according to the Environment Agency, plasterboard and other gypsum materials can emit dangerous gases when broken down with other waste types. Plasterboard (aka gypsum or drywall) contains high levels of sulphates due to its gypsum content, and when this is disposed of along with general waste, it reacts to create hydrogen sulphide, chemical formula H2S. This process is called putrefaction, and it can occur in landfill sites and in skips if discarded drywall is allowed to get wet.
Asbestos
is a hazardous material that should never be put into a GSH skip. It should be being removed by a specialist asbestos removal contractor because of the hazards it presents to people and the environment. Please contact the appropriate asbestos removal contractor for this kind of a waste. Your local council can recommend suitable disposal methods, visit: https://www.gov.uk/asbestos-in-home/ to find out who your local council is.
Electrical Appliances & Equipment
including freezers, fridges, dishwashers, televisions and computer monitors should be taken to a registered or designated WEEE recycling facilities. They cannot be mixed with other general waste. For disposing WEEE waste, make sure to contact a special WEEE collection company.
Batteries Can't Disposed Of In Skips
No type of batteries should go in any skip. They contain various metals and chemicals that should be treated separately. Due to the hazards that these materials and metals present to the environment, batteries are not allowed to be put into any skip. Batteries contain high amounts of lead which are extremely poisonous and need to be treated in a particular way. They are also easily recycled, small batteries can usually be taken to DIY stores such as B & Q, while larger batteries can be recycled at local recycling centres.
Gas Cylinders
We are licensed to take gas cylinders. The residual content they may have that can be dangerous to the environment, it is also dangerous disposing of contained cylinders. If you have gas cylinders to dispose of, try contacting your local recycling centre.
Oils, Liquids, Solvents & Paint
Fuels should not go to our skips, we are allowed to dispose of oils, liquids, solvents or paint. These hazardous materials can harm people and the environment. Same as Fluorescent Tubes which contain mercury, also a hazardous material that presents harmful effects to our surroundings and contaminates other recyclable materials .
Mattresses
Due to the possibility of soiling, mattresses and classed as contaminated waste and shouldn't go in our skips please contact your local council regarding the removal
Medical Waste
present high risks of infection and contamination, Loading them into an ordinary type of skip will risk harmful diseases of injury.
Carpet
Carpet must not exceed 20% of the total skip waste, carpet skips are available by speaking with one of our advisors
Overloaded Skips
Our drivers reserve the right to refuse to collect a skip deemed overloaded or irresponsibly loaded. Transporting an unsafe load could lead to our driver receiving a fine, lose their licence or even worse cause a major accident on the roads. in the event where a skip is irresponsibly loaded customers may be liable for a wasted journey charge and the skip will be left on site until it is made safe. Examples of irresponsible loading include placing overloading boards around the skip to increase the skip capacity. These boards do not make the load safe and often makes the netting of by the wagon .
It is important to remember 12- 14 yard skips are for light mixed waste only and should not be filled with heavy waste such as soil, sand, hardcore and other aggregate waste
for help and further information please call one of tour team 0151 424 4079