Corporate sponsorship - Nyakasura School - Uganda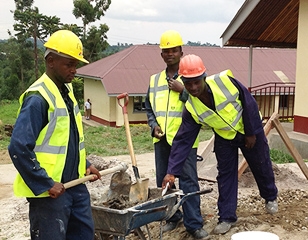 Nyakasura School was established in the Rwenzori Mountains in 1926 by a Scot referred to as the Commander rising to national prominence due to the high standard of European style of education. Even today many of Uganda's movers and shakers both in business and in politics were taught there. Unfortunately due to a lack of investment the structures at the school have become dilapidated, with broken windows, leaking roofs and collapsed ceilings a commonplace sight, but thanks to renewed enthusiasm among staff and the continued support of the UK Friends of Nyakasura a programme of refurbishment was undertaken. This has come following funding being secured nationally to rehabilitate other buildings on the grounds.
Representatives from the UK Friends contacted One Brick at a Time (OBAAT) staff to explore the possibility of running a One Brick training programme at the school as a means of refurbishing classrooms. After much discussion and a meeting held personally with Dave and Anne Cameron by Dr Martin Carey a framework for a joint initiative was agreed which in turn began the initial consultation between concerned parties locally and nationally in Uganda.
A series of meetings were held both at the school and in Kampala by OBAAT staff to seek a consensus between the board of Nyakasura School, the Alumni and the UK Friends on a building programme that would meet the requirements of the school. Ultimately it was agreed by all parties that the refurbishment of building 136, the old geography classroom block, referred to by some as the 'mother building', as well as a wing of the main building should be the focus of works.
Download Nyakasura-school .pdf