New Shredder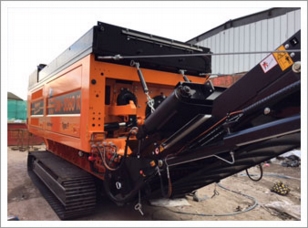 Model - DW 3060 K Shredder BioPower
Make - Doppstadt
With it's robust crawler track chassis with two speeds and replaceable track plates, it yields high throughput rates which usually are only expected from high-speed shredders, even on rough terrain.
Innovative Shredding System
The Doppstadt Variomat comb system is prepared for any shredding task, therefore Doppstadt offers the suitable solution for all kinds of materials. The shredding rollers of the DW 3060 Type F are quickly and easily replaceable thanks to the new Quick-Change-System.
The patented Doppstadt tooth mount ensures the optimum connection between tool and holder. Special high-strength steel ensures a long service life of the tools.
Contamination-Resistant Limiter Re-Shredding Element
The new Limiter Element of the DW 3060 F replaces the known comb extensions. This innovative system combines the advantages of the comb extensions and of the grating basket. The individual Limiter Element is gimbal-mounted and it can avoid foreign bodies in all directions.
Dopplock Fixture System
Self-locking fixture system for highest stress. The bolt is just a retaining device.
Shredding Roller
With up to 40 mm wall thickness and quick-change mount.
Tooth Bar
The Tooth Bar is replaceable without tools.